Hints to bowlers and captains
Every individual has an off-day every now and then, cricketers included. It is inevitable that a bowler will have his share of bad days when the batsmen give him a real hiding. All a bowler should do in such a situation is concentrate on the basics. This will help him emerge from a bad patch even before he realises it!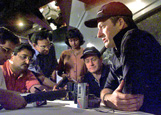 Steve Waugh, one of the greatest captains of all time, 'handles' the media
Every bowler should operate to a 'plan'. Just bowling up-and-down stuff will not get him anywhere. A bowler should quickly assess the strong points and weak points of a batsman, and operate accordingly. A new batsman should always be attacked, as even the greatest of batsmen are vulnerable when they are new to the crease.

A bowler can work on his length and direction by bowling in the nets on a spot marked on the pitch, with only one stump in position. He should make it a point to practise bowling over as well as round the wicket.
Hints to captains
Captaincy is the highest honour that can be bestowed in the game of cricket, never mind the increased importance being attached to 'coaches' nowadays, even at the international level.
A captain enjoys several rights. But in order to exercise those rights, it is critical for him to be aware of his responsibilities.
It is essential that the captain enjoys the respect and confidence of his team. Not only should his cricket record be noteworthy, but his demeanour off the field should also be impressive. If the captain is someone who loves to 'have a good time', his teammates might not take him all that seriously, and the morale and discipline of the team can go for a toss as a result.
A good captain must be a fighter; confident but not arrogant; firm but not obstinate. He should be able to take criticism without letting it affect him unduly.
The captain should ideally be a specialist batsman. This is not to say that specialist bowlers are not mature enough, but the flip-side of having one as skipper is that he can either over-bowl or under-bowl himself. A wicketkeeper has to concentrate hard throughout the game as it is. It doesn't make sense to add to his burdens by giving him the captaincy.
It helps if a captain has studied and understood the laws of cricket. A captain should have a cool head and sound judgment. This enables him to take sound decisions, particularly those pertaining to bowling changes, taking the new ball and making declarations. A clear plan of action that has been formulated before the match commences will always stand a captain in good stead. Yet, this does not mean that he should be rigid. He should be able to think on his feet and change his tactics to combat changing situations.
An extremely handy attribute that a captain can possess is the ability to detect an opponent's weakness. Discussions between the captain and his players during the progress of play can often prove fruitful, as can meetings after the day's play. A dictatorial approach rarely helps, and it is important that all the players be exhorted to think and contribute to strategies.
Effective man-management is the key. A captain should look at his team as a group of individuals, each of whom is a unique human being. He should be deal differently with each player, in accordance with their respective temperaments. A captain who 'handles' his players well on as well as off the field is bound to be successful.
A healthy attitude will never go waste. A bowler who is getting pasted should be encouraged, not shouted at, for that is the last thing he wants. There is also no point in firing a fielder who has spilt a catch. If the guilty fielder is targeted by the captain, it is quite likely that he will lose all his confidence and commit another blunder.
A batsman who has been dismissed off a poor stroke knows that he has messed it up. In such a situation, a captain would be better off waiting for the batsman to realize his mistake instead of bawling him out. When the player cools down, the captain could take the player aside and have a firm but constructive word or two. This can boost the player's morale.