Mahendra Singh Dhoni Biography
Mahendra Singh Dhoni started his first class career in the year 1999-2000. His one day international debut came after playing five years of first class cricket on the 23rd of December 2004 against Bangladesh. The venue of the match was in Chittagong, Bangladesh. Unfortunately, he was run out on the first ball he faced. It wasn't a great debut for him where batting is concerned. Luck wasn't on his side in the first four matches he played. Where as on the fifth match which was played against Pakistan in Visakhapatnam, Dhoni came to the crease one down and managed to score 148 runs from just 123 balls. He hit 15 boundaries and four sixes. He got his first man of the match award that day. Not only a good wicketkeeper but Dhoni proved himself to be a first class batsman too. He is one of the few finest wicketkeeper batsman India has seen after a very long time.

On the 31st of October, Dhoni broke the record of highest runs scored by a wicket keeper by securing 183 runs against Srilanka which was played at Jaipur. Adam Gilchrist was the former record holder with 172 runs.

Before he started playing cricket, he was a football goalkeeper. Its said he drinks around four litres of milk everyday but he denied it by saying that has been exaggerated a bit. He said he loves milk and drinks around a litre on a daily basis.

On the 2nd of December 2005, Dhoni made his Test cricket debut against Srilanka which was played in Chennai, India.

Dhoni was born and brought up in the city of Ranchi. He has two siblings. A sister who is married and a brother who lives in Almora. Almora is a high-lying town at the foot of the Himalaya which is his father's home town. His father's name is Pan Singh and mother's name is Devki Devi.

His hobbies and interests include:
Hearing music, ghazals and songs by Lata Mangeshkar and Kishore Kumar
Loves to ride bikes
Enjoys playing computer games and badminton


Not interested in:
English songs
Working out at gyms

Special qualities:
Thinks positive
Highly confident about himself
Is aggressive on the field

His Idol:
Adam Gilchrist


Achievements

.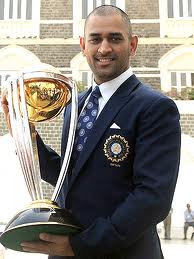 Career Highlights
Became the first captain to lead India to the ICC World Twenty 20 trophy played in South Africa in September 2007 which India won on the 24th September 2007.

Second Indian captain after Kapil Dev to have won a World cup

Awards
On the 13th of February 2006, became the man of the match against Pakistan at Gadaffi Stadium for an unbeaten 72 runs

Made man of the match against Sri Lanka on the 31st of October 2005 for scoring his highest ever unbeaten 183 runs at Sawai Mansingh Stadium

Receives his first man of the match award against Pakistan at AC-VDCA Stadium for scoring 148 runs on the 5th of April 2005

Ranking
On the 19th of April 2006, moves to the top at no. 1 position on LG's ICC ODI player rankings

Ranked at no. 2 position on LG's ICC ODI player rankings on the 16th of April 2006

Records
On the 17th of January 2008, became the first Indian wicketkeeper to effect five international dismissals in an innings against Australia – equalling Adam Gilchrist's record

Holds the record for highest runs scored by a wicketkeeper, i.e. 183 not out

His innings of 183 not out is the highest score made by anyone in the second innings of an ODI. The former record was held by Brian Lara for scoring 153 against Pakistan

Became the first Indian to hit 10 sixes in an ODI

Made a record of scoring 120 runs in an ODI from boundaries and sixes(15 boundaries and 10 sixes)

Is the only second Indian to reach 1st position on LG's ICC ODI batting rankings