Captaincy - Great Leaders
I had the privilege of playing under some outstanding captains, who were excellent readers of the game and knew its varied nuances inside out. The captains who impressed me the most in my early playing days were the Nawab of Pataudi and Chandu Borde, both for different reasons.
Pataudi was a courageous leader. He gave the opposition a '50% chance', which means he gave them an even chance to win. If they missed out, he won! His field-placing was normal and anything but defensive. He encouraged his batsmen and bowlers greatly. He was very approachable and down to earth. At the same time, he maintained his distance. Probably his schooling in the UK helped him analyze the game realistically and made him very confident.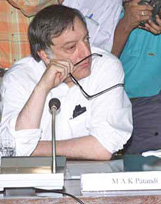 Mansoor Ali Khan 'Tiger' Pataudi
I will never forget my first meeting with 'Tiger' in the mid-1960s. I had been picked to play for a sponsored side to be led by him. The game was to be played at Hyderabad. I contacted Mr. Ghulam Ahmed, former India captain and then Hyderabad Cricket Association Secretary, on my arrival. He asked me to come to his office at 5 pm to meet the captain.

Accordingly, I, the 20 year-old reigning captain of Mumbai University, swaggered into Mr. Ahmed's office with my collar 'up' at 5 pm sharp. I saw a man sitting in a corner, smoking a cigarette. "Young man, meet your captain", Mr. Ahmed stated.

I strode towards him and introduced myself, but he did not bother to even look at me! It was quite embarrassing. My ego was shattered, and I was angry enough to excuse myself and leave. While Mr. Ahmed responded, Pataudi was still in the smoke shield!
I was prepared to be treated in the same manner when I reached the ground for practice the following morning. Imagine my amazement when I felt a hand on the back of my shoulder. It was Tiger!
He asked me to pad up, and while I was doing so in total disbelief at the turnaround, he asked me about some members of the opposing side who were from Mumbai. We had an interesting and engaging discussion. He spoke very well, very charmingly, and showed respect for my opinion (I would like to think it was genuine!). I was floored! I felt so motivated that I could have done anything for him!
Another memorable interaction, if one may call it that, took place during the Mumbai Test against Australia in 1969-70. It was my first season in international cricket and I was excited at the prospect of playing a Test at my home-ground. On the eve of the game, Tiger informed me that I was to bat at the pivotal No. 3 position. This came as a surprise, for I had never batted at that number before, and here I was, being asked to do so in a Test match! I guess the skipper had confidence in me.
I did not do too badly, scoring 74. I returned to the pavilion, pleased as punch with my innings, and eager to hear some kind words from the captain. The others complimented me, but the skipper did not say anything. However, with the Hyderabad incident at the back of my mind, I wasn't all that disheartened with his apparent lack of interest. I was taking my pads off when, once again, I felt a hand on my shoulder. I looked around to see the skipper sitting next to me. He smiled and said' "Young man, this is the last time you will wear these trousers again", stood up and and walked off.
The reference was to my 'lucky' pair of shining white cotton trousers. In his own way, Tiger had indicated his appreciation of my innings, and at the same time, expressed his disapproval of my apparel. The important thing is, he made that particular statement knowing that I wouldn't misunderstand him. We had earlier added 146 runs, and during that long partnership, he hadn't said a word about the trousers, having probably realized that I might have been wearing them for a specific (superstitious) reason. But he did not want me to err a second time. Truly a remarkable individual!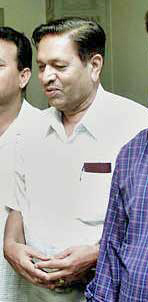 Chandu Borde
Chandu Borde's approach to captaincy was somewhat different. He was a shrewd leader who had tremendous faith in his medium-pace bowlers. He was a leader who kept a tight leash on the opposition and never gave anything away. He possessed what we in Mumbai would call the 'Chavi' (key) approach. 'Chavi' in Marathi means 'key'. He would 'key' (encourage) you to such an extent that you ended up believing that you were the best.

I will never forget a Duleep Trophy final in the late 60s against North Zone. We (West Zone) were defending a modest target, and North were cruising at 100-odd for 1. All the frontline West Zone bowlers had bowled their hearts out without success.

Suddenly Borde, who was leading, put his arm around me and said, "Ashok, I know you can win this match. So come, flight the ball and I will post myself at short mid-wicket and catch them there". I could not quite understand what was happening, but I sensed his sincerity. Lo and behold, I proceeded to take six wickets with my off-spin and bowled North Zone out! Three of those victims were caught by Borde at short mid-wicket, exactly as he had planned!
I believe the North Zone players who played in that match are still trying to figure out what happened. The turnaround was beyond my wildest imagination, so just imagine what the opposition must have gone through!
However, I acquired the best education in captaincy from my late father, the great Vinoo Mankad. After returning home from a game, I would discuss the happenings with him, and he could visualize and tell me what course the game would have taken. He was spot-on! He would also suggest a few changes or alterations that in his opinion could change the game and he would be dead-right! His judgement was astounding. It was from him that I learnt quite a few tricks of the trade. He provided the ideas and I got the credit!