A Question of Specialists
The flamboyant Yuvraj or the stodgy Chopra? Who will open the batting when Australia tour India in October? This is a million-dollar question. This controversy that has been generated through casual interviews with Sourav Ganguly, Sehwag and Tendulkar, speaks volumes about the confidence and forthrightness of the present Indian cricketers. They are not afraid to express their views, which makes one realize and recognize the progress Indian cricket has made in the last few years.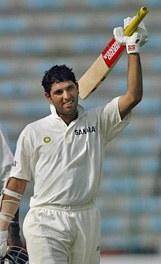 Yuvraj Singh raises his bat after completing his maiden Test hundred at Lahore, April 2004.
However, in this debate on the opening slot, hardly anyone has taken into account the 'fielding' perspective. Yuvraj is certainly one of the best fielders in the world, but is he as good a close-in fielder as Chopra? His performance as a close-in fielder in the Rawalpindi Test, for which he replaced Chopra in the eleven, was not very convincing, whereas Chopra has done a good job and held some spectacular catches close to the wicket.

Our next series is against the mighty Australians, and with Kumble and Harbhajan Singh set to operate in tandem, the difference between winning and losing could be the half-chances that need to be snapped up by the close fielders, especially the man standing (and bending) at forward short-leg.

As of now, Chopra definitely holds the edge when it comes to fielding in that position, but if the captain wants Yuvraj in the eleven for his artistic batting, then the only way forward is to develop him into a good short-leg fielder. A week in the company of Eknath Solkar, the greatest of them all, would not be a bad beginning.
The Yuvraj-Chopra episode has in a way, again underlined the fact that despite the importance given to fielding in the modern era, it is still a neglected aspect in comparison to batting and bowling.
We find it very easy to discuss the best bowling combination or the most effective batting order, but the importance of having specific fielding positions is forgotten and the old thumb rule of the most inexperienced teammate being placed at forward short-leg and the fast bowler at long-leg still prevails. We are in the era of specialization, and it is vital that a specialist fielder is valued as much as a specialist batsman or bowler.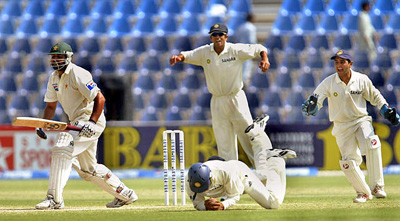 Aakash Chopra takes a brilliant catch to dismiss Pakistani skipper Inzamam-ul-haq at Multan, April 2004.
One man who believed that fielding was a specialized skill was the astute Sunil Gavaskar. The series was India vs the West Indies in 1978-79, the venue was Madras, where we played the fourth Test. Sunil realized the importance of a specialist close-in catcher to win a Test match. The previous three matches had been drawn and several half-chances close to the wicket had been missed.

I was strategically brought in as a 12th man, first into the side and then onto the field. I can still recollect the dismissal of Kallicharran, the West Indian skipper, who through his brilliant batting, was being a thorn to our side. The plan was to tempt him to play his favourite cut shot and have him caught at short-gully off Venkataraghavan. Everything went according to plan and I managed to grasp the catch. In the next over, I caught Parry at backward short-leg and these two dismissals led to our dismissing the West Indians for a paltry 151. We went on to win the match and series, thus proving that in Indian conditions, it was essential to have specialist close-in fielders to win matches. If one goes through past performances, victorious series in India have always been marked by outstanding fielding, particularly in the close-in catching positions.

One of the greatest exhibitions of the importance of fielding was shown by the South African side of 1952-53, when they held the unconquered Australian post-war side to a drawn series in Australia The South Africans practised fielding with a fanatical zeal and backed it up with superb physical fitness. Although they were nowhere near to the Aussies in terms of batting or bowling strengths, they emerged unscathed. This led to other sides emulating them.
Every position on the field has a different style & approach. It's not necessary for a close catcher to be a superb outfielder or vice-versa. I can still recollect the Nawab of Pataudi Jr, one of India's best-ever captains, walking up to me, a junior and asking me as to where I would prefer to field. I said "Anywhere sir", eager to impress the stalwart. "You must be a bloody good fielder then,", he replied. His next sentence was even worse, "Go and field at forward short-leg!" There I was, crouching and cursing myself for getting into such a mess. Well as things turned out, I took three catches, two of them off dives, and from then on, forward short-leg became part and parcel of my cricketing career.
A similar incident occurred during a domestic game in Australia involving the champion side New South Wales. A youngster came to field as a substitute and asked his NSW captain Keith Miller where he would like him to field. Miller, as nonchalant as ever, pointed towards first-slip. Within half an hour, the youngster took two wonderful catches and spent the rest of his career fielding there. He was none other than Bob Simpson, one of the greatest first slip fielders of all time.
Fielding, along with physical fitness and mental toughness, is an aspect that can give a team a distinct advantage over its opponent in the modern age. Will the Indian selectors and team management give the side an advantage by picking Chopra, who will be a real asset at forward short-leg, or will they gamble on Yuvraj's awesome talent enabling him to learn the tricks of close-in fielding by the time the Aussies arrive? Let's wait and watch.