Patrolling the Midfield
The 'midfield' is an extremely important area in cricket. It is in this area that batsmen concentrate on to get quick singles and twos. These runs help them rotate the strike and thereby prevent the opposition bowlers from getting into a groove. It is critical that the players patrolling the midfield are on their toes. If they are vigilant, it is the batsmen who will be on their toes! Not only can the 'midfielders' deny the batsmen easy ones and twos, but they can also demoralize the batting side by coming in the way of certain boundaries. Point, cover, extra-cover, square-leg, mid-wicket, mid-on and mid-off are some of the key infield positions. These spots thus constitute a key area of defence for the fielding side.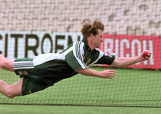 Quick and flexible - Mohammed Jonty Rhodes, 'Midfielder' Extraordinaire.
Players who stand in these positions need to be quick and flexible in their movements. An ability to anticipate will never go waste.

There can be no doubt in any cricket-lover's mind that South African Jonty Rhodes was by far the greatest exponent of 'midfielding' in the last decade and more. He embodied all the qualities mentioned above, and more! Anticipation gives the fielder that extra second, which can very often result in a run-out or catch. This is where maturity also comes into play.
The fielder who manages to keep his cool is invariably more effective. How often we have seen fielders move well and get themselves into a perfect position, only to fumble with the ball when they get their hands to it? The excitement gets the better of them and they end up snatching at the ball instead of allowing it to enter their palms. This inability to concentrate on the ball in crunch situations can make the difference between victory and defeat, for let's not forget, 'Catches win matches!' The most famous incidence of a dropped catch turning a match occurred in the 1999 World Cup, in a Super Six stage game between Australia and South Africa. While the South Africans had already qualified for the semi-finals, Australia needed to win the game outright to do so. But they lost a few early wickets and it all boiled down to whether Steve Waugh, their skipper, could take them through. He had not scored many when he gave a catch to Herschelle Gibbs in the infield. Gibbs, a brilliant fielder, held on to the ball, but spilt it in his eagerness to throw it up in the air to celebrate the wicket. As he had no control over the ball, it was considered a 'drop'. Steve Waugh was reported to have said to him; "Mate, you have just dropped the World Cup!"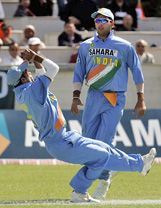 Quick and flexible - Mohammed Kaif is about to pull off an astonishing running catch, watched by Yuvraj Singh, another magnificent midfielder.
The Australian skipper went on to score a century and won the game for his team, thereby ensuring a spot in the semi-finals. The Aussies then edged past South African in the semis and beat Pakistan in the final. Gibbs had indeed dropped the World Cup!

'Tiger' Pataudi, Mohammed Azharuddin, Ajay Jadeja, Brijesh Patel and Eknath Solkar were among India's best midfielders. Yuvraj Singh and Mohammed Kaif are in the same class. Just imagine what would happen if all these talents were to be combined in a Dream Fielding team. No opposition will be able to put up a decent score!

Traits common to all these men were confidence, self-belief and the ability to 'enjoy' fielding and work hard. They all enjoyed a challenge and were always looking to do something extraordinary. They always wanted the ball to come in their direction.
Aspiring mid-fielders ought to practise short 25-yard sprints, emphasizing on a split-second take-off, similar to that of athletes in a 100 metres race. This helps improve one's speed. Yoga and other special exercises could help youngsters make their bodies more agile. This will enable them to bend and move in any direction without jarring the muscles. Mental coolness while attacking or approaching the ball can be achieved by concentration training - the ability to focus on an object without getting distracted.
Remember, brilliant fielding is remembered as fondly as brilliant batting or bowling. Who can forget Jonty Rhodes' stunning catches and run-outs?
Sir Vivian Richards, one of the all-time greats, swung the inaugural World Cup final (1975) in his team's favour by running out three Australian batsmen from the infield. Two of his 'victims' were the Chappell brothers Ian and Greg, the two best batsmen in the Australian side. Indeed, some things never change. To me, the 2007 World Cup will be won by the best fielding side. The 'foot soldiers' will make all the difference.