Close-in Fielding: A Closer Look
Just as batting and bowling techniques vary from player to player, so do the techniques of different close-in fielders. Brian Close, Tony Lock, Eknath Solkar and I had our own unique style of close-in fielding. What we all had in common however, was confidence, the ability to enjoy the game in any situation and a flair for accepting challenges, all of which contributed to our success.
Solkar's assets were agility and quickness, whereas I depended on reflexes and anticipation. The method I adopted was to stand very close, so that the chances came at a more 'catchable' height. Most importantly, standing closer helped in reducing the angles at which the ball would fly in my direction, although the downturn of this technique was that the ball would come on to you much faster. However, I found this method very useful, as the spectrum that I could cover while taking a catch was much wider than what it would have been had I stood even a stride behind. This, in my opinion, is the ideal technique for the forward short-leg position, as was demonstrated by Brian Close and Tony Lock. To adopt this method, you need to have faith in your reflexes. But then, all human beings have quick reflexes that can be honed with practice.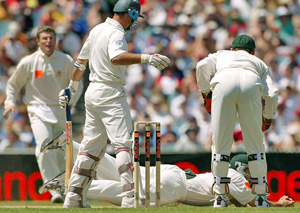 Silly-point fielder Matthew Hayden dives to catch Nasser Hussain at the MCG, 2002-03
Another factor that one needs to be careful about is the stance. The best position is one in which the fielder crouches, his posture resembling that of a tiger or cat about to pounce on its prey. The legs should be comfortably spread and bent to allow a quick 'take-off'. This is crucial, as the short-leg fielder is supposed to hold difficult chances and comfortably pocket the easier ones. It is the capacity to move sharply that can convert half-chances into catches.

The most difficult aspect of close-in fielding is maintaining a high level of concentration throughout the day. How many times have we seen a short-leg fielder drop a catch in the very last over of the day? That one lapse in concentration ensures that all his efforts throughout the day are forgotten. I worked out a method to combat fatigue by telling myself before every ball was bowled that the cherry was going to come to me. I would challenge myself to stop the ball, if not catch it. As the bowler started his run-up, I would start chanting my very own 'Vedic mantra'; "It's coming to me, to me, to me!" I found this an effective way of keeping myself alert.

The other tiring aspect of close-in fielding is the stiffness and pain in the nape and neck muscles. The only way to counter this is to regularly loosen the muscles by exercising them during the course of the match and later. In the modern 'Gymnasium Age', it would be advisable to build these muscles by doing lightweights regularly.
The hands are naturally the most important area as far as catching is concerned. The only way one can improve in this area is by taking as many catches in practice as possible. Mr. Kamal Bhandarkar, my coach in Pune and one of India's best-ever, would make us hold 100 catches daily. Every time we dropped one, we had to take an additional catch to compensate. This made us more consistent and gave us a "feel factor" in accepting catches at different speeds, angles and heights. The monsoon was the worst time of the year for us, as the ball would get wet and slippery. However, we continued with our practice, and catches.
It is this kind of training that comes in handy when one is in the middle. There is no supplement for hard work. Focussing on these areas can make close-in catching and fielding more challenging and enjoyable.