Catchers 'UP-CLOSE'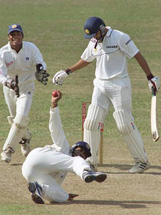 How effective would India's spin quartet of the 60s and 70s, the lethal West Indian fast bowlers of the 70s and 80s and their Australian counterparts of the 90s and new millennium have been, without the support of close-in catchers?
I am inclined to answer in the negative.
Until the 60s, India was known for producing 'featherbeds' on which batsmen made hay. Subhash Gupte, Ghulam Ahmed and Vinoo Mankad, India's three great spinners of the 50s, did their best on such pitches, but were hampered by the lack of 'close-in' support. They would have probably taken as many wickets as the greats of the 70s, had fielders like Ajit Wadekar, Eknath Solkar, Abid Ali and S. Venkataraghvan been around.
These men provided outstanding 'close-in' support to Bedi, Prasanna, Chandrasekhar and Venkataraghvan (as great a bowler as he was a 'catcher'!). The success of these fielders was in no small measure due to 'Tiger' Pataudi, India's captain for most of the 60s, under whose leadership these players made their debuts. He was quick to realize during his tenure that the only way India could win Tests at home was by preparing turning wickets and supporting the high-quality spinners who had emerged on the scene. A brilliant fielder himself, he led by example and inspired his boys to become better fielders. It was under 'Tiger's captaincy that the Indians honed their close-in fielding skills and made them a vital part of their arsenal.
There was a proliferation of outstanding slip-catchers in the 70s and 80s. The Chappell brothers, Tony Greig, Ian Botham, Clive Lloyd, Vivian Richards and Gordon Greenidge helped Lillee, Thomson, Holding, Roberts, Marshall and Willis become successful, and feared speedsters.
Never mind the slips, gully, point and the others, 'forward short-leg' (and on the opposite side, silly point) is one of the most critical fielding positions.
Close-in fielders have their adrenalin generated by a feeling of 'superiority'. One needs courage to be able to stand in what is still referred to as the 'suicidal' position. Not surprisingly, most players are reluctant to stand there, considering that one is at a far greater risk of getting injured, than in any other position. While there is a certain amount of risk involved, the batsman is able to take it easy either. He is always conscious of someone crouching right next to him. The proximity of fielders can be unnerving, and for some, even scary.
Another reason why close-in fielders need to be mentally tough is because theirs is basically a thankless job. With the passage of time, how many people remember the half-chances that were converted into catches to make bowlers like Muralitharan and Warne the leading wicket-takers? How many people actually remember the superlative catches taken by Solkar or Tillekaratne, which made the incoming batsman think twice before playing the ball?
Close-in fielders are generally enthusiastic, eager and at times, anxious to display their skills in situations when the batsman is careful, tentative and hence, at his most vulnerable. They are also by and large, aggressive. They have to be. Their aggressive body-language is what a new batsman should encounter immediately after arriving at the wicket. The fielder should display alacrity in whatever he does, from going for a catch to picking up the ball after the batsman has played a defensive shot! The batsman should always be made to feel that there is someone close by, who is waiting to capitalize on the slightest error that he commits.
Most close-in catchers can easily be classified as extroverts, who enjoy being in the forefront of anything they do, on or off the field. They are fearless, gutsy and above all, great team-men. After all, aren't they risking their lives and reputation for the benefit of the bowler and the team?