Two decades ago, when a distraught Anil Kumble was accused of chucking and stopped from bowling in the nets of a local lower division club in a remote ground in Bangalore, no one visualized that this youngster would one day become India's greatest ever bowler.
"Everything I did at that stage was wrong. But I did not know that, nor was there anybody to coach me," said Kumble.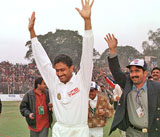 His greatest moment - The ten-wicket haul against Pakistan at Delhi in 1998-99
The tall, gawky lad had just entered his teens when he joined the club. He was keen on bowling medium pace. But his bowling action was faulty. He then took up off-spin bowling, but the quirk in the bowling action remained. He was shouted at in the nets and often stopped from bowling. In desperation he turned to his elder brother, Dinesh, who asked him to try his hand at leg-spin.

"My grip on the ball was that of an off-spinner's. And I got used to that. Which is why even to this day I grip the ball like an off-spinner, with the gap between the forefinger and the second finger being the widest," recalled Kumble.

The grip reduced the amount of leg-spin he could impart on the ball. But his determination, focus, aggression and a quick-thinking engineer's brain that saw him constantly upgrading his bag of tricks and plotting batsmen's doom were matchless assets and made him a veritable force of one.
Indeed, 14 years after he made his foray in international cricket and was repeatedly picked on for not spinning the ball enough, bowling too fast, not being a sharp fielder, etc, etc, Kumble has had the last laugh on his critics. Today the `smiling assassin' is not just another India bowler, but their most successful ever. His bag of 434 Test wickets from 90 Tests enabled him to draw level with record holder Kapil Dev who reached that tally from 131 Tests - 41 more than Kumble. Certainly with a strike rate of 4.82 wickets per Test over a 14-year period, Kumble, is, without doubt, the greatest bowler India has produced.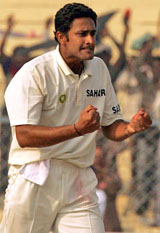 The smiling assassin
Oldsters might contest this claim and certainly the reams of prose written for ever so long about India's spin quartet of BS Chandrashekar, Bishen Singh Bedi, EAS Prasanna and S Venkataraghavan and also fast medium bowler Kapil Dev, all of whom did yeoman service to Indian cricket, will be flaunted as proof that Kumble is not the greatest. But isn't he? For starters, his record is far more impressive than all these bowlers.

Take the matter of the number of Test wins Indian bowlers have featured in. The fast-medium bowler Kapil Dev played 41 Tests more than Kumble, but lags behind him in the number of wins (see table). Kumble who has starred in 28 Test wins, the maximum number by an Indian bowler, is already four wins more than Kapil Dev.

The classy left arm spinner Bedi, who played with great distinction during the 1960s and 70s and paceman Javagal Srinath featured in 17 wins apiece -11 less than Kumble. The wily off spinner Prasanna played in 15 wins and the former ace match-winner Chandrashekhar in just 14.


If the number of Test wins is not enough to put Kumble head and shoulders above the legion of Indian bowlers, just look at the huge quantity of match-winning wickets that puts him in a class of one. He has a massive haul of 199 wickets in matches won by India. This is unrivalled even by the galaxy of great bowlers. In fact, none of them has managed even 100 wickets in Test wins. The next best, the enigmatic leg spin-googly bowler Chandrashekar, captured 98 match-winning wickets while left-arm spinner Bishen Singh Bedi bagged 97. Kapil Dev has a mere 90 from 24 Test wins.
Kumble till date averages a Test win every 3.23 Tests. Prasanna averages a win every 3.26 Tests. Bedi and Srinath averaged one win every 3.94 Tests. Chandrashekar bowled India to victory every 4.14 Tests. But Kapil Dev (5.45), Venkataraghavan (5.7), Vinoo Mankad (8.8) and Subhash Gupte (12) found Test victories too far apart for comfort.
Another parameter that marks Kumble out as a priceless asset to the Indian team is his remarkable contribution to Test victories. Kumble has a whopping 7.10 wickets per Test win. Only Chandrashekhar who averages seven wickets per win has a comparable record. The poorest record is that of Kapil Dev who averages just 3.75 wickets per Test won. In other words, his contributions to the victories have not always been emphatic. The sample size for Subash Gupte (three Tests) and Vinoo Mankad (five Tests) are too small to arrive at any conclusion.
Perhaps Kumble would have had a much more staggering average of wickets per Test win if he had a top class close-in field, particularly in the silly point and forward short-leg positions. He has also had very poor support from the wicketkeepers, Kiran More, Nayan Mongia towards the latter part of his career and the others, including Deep Dasgupta, Ajay Ratra and Parthiv Patel.
Kumble, who is often used by his skippers to both bag wickets and check the run flow, has not always had good bowling support from the other end. It is only of late that Harbhajan Singh has looked the part. Else, the added pressure from the other end would have resulted in more wickets and more wins.
But for all Kumble's magnificent record and his undoubted contribution to Indian victories, what have rankled are the barbs thrown by vested interests and quickly picked up by unsuspecting hacks: Kumble is effective only at home and needs helpful pitches to perform.
These vested interests, usually former cricketers, never ask, for instance, if any of Sunil Gavaskar's centuries were notched on spiteful tracks. Or how successful some of India's `great' batsmen have been on green tops or bouncy tracks. In fact their double standards stick out when they try and pick holes in Kumble's performance.
Certainly, Kumble, with 162 wickets in Tests abroad (five or more wickets in an innings on eight occasions) has proved conclusively that he is a force to reckon with both in India and abroad. The away series against Australia and Pakistan in 2003-04, where he picked up 39 wickets in six Tests, proved that if the Indian batsmen manage to put sufficient runs on the board, Kumble would deliver the goods.
More power to his arm!
| | | | | | | | |
| --- | --- | --- | --- | --- | --- | --- | --- |
| Bowler | TestWins | Wkts in Wins | 5 Wkt haul in Wins | Wkts per Win | Total Tests | Total wickets | Wins abroad |
| Anil Kumble | 28 | 199 | 15 | 7.10 | 90 | 434 | 5 |
| Chandrashekar | 14 | 98 | 8 | 7 | 58 | 242 | 5 |
| Bishen Bedi | 17 | 97 | 6 | 5.7 | 67 | 266 | 8 |
| Kapil Dev | 24 | 90 | 3 | 3.75 | 131 | 434 | 4 |
| EAS Prasanna | 15 | 81 | 5 | 5.4 | 49 | 189 | 7 |
| Javagal Srinath | 17 | 68 | 2 | 4 | 67 | 236 | 4 |
| Venkataraghavan | 10 | 41 | 2 | 4.1 | 57 | 156 | 4 |
| Vinoo Mankad | 5 | 41 | 4 | 8.2 | 44 | 162 | 0 |
| Subash Gupte | 3 | 22 | 2 | 7.33 | 36 | 149 | 0 |
| Harbhajan Singh | 15 | 94 | 9 | 6.26 | 41 | 185 | 4 |