It was, I think, Al Capone, the mafia boss who when ill-luck hit his operations, reasoned: ``The first time (the mishaps occur) it is happenstance. The second time, it is coincidence. The third time it is enemy action.''
For the Indian cricket team which lost its umpteenth final, in Sri Lanka recently, it was not a case of happenstance, coincidence or enemy action. The loss was a simple public exhibition of choking. In fact the Indians have choked so often in the finals that they now have the expertise to write and patent a treatise on the art of choking - so well have they fine-tuned it.
Of course apologists to the Indian choking will not admit what stares them in the face. They prefer to pass off these relentless defeats in the finals as some jinx that needs to be broken. Well, the last time there were so many jinxes taking place they ended up burning witches on the stakes of Salem.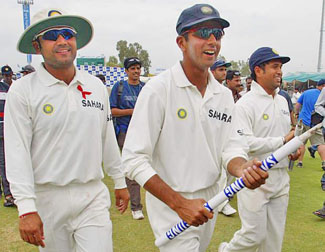 IS THERE A SERIOUS FLAW IN THEIR BIG-MATCH TEMPERAMENT?
We live in an era when computer simulation, personality mapping, psycho-analysis and several other drills to break and rationalise every single twitch or move have become the order of the day. It is therefore surprising that the otherwise technically savvy Indian team spin doctors are talking about jinxes.
Alternately this could be the madness of their method. After all they have already flirted with numerology. The skipper, for one, tried a couple of different numbers on the back of his shirt but ended up with the same result -defeat. Who knows the spin doctors may yield to witch doctors and vaastu or jadoo or some other mumbo-jumbo.
The bottom line, however is that there is a serious flaw in the big-match temperament of our big boys - and it shows in their and the team's performance in the finals.
Just consider the facts, in the last 10 finals that India have appeared in, they have won just one - the Nat West Series final against England at Lord's in 2002. The rest have been a disaster with India losing seven and two matches declared no result. In terms of probability, this means that India will lose in the finals 70 per cent of the time and have a mere ten per cent chance of winning!
Of course this is shocking, but then statistics often have a tale to tell. And the tales they tell of India playing in finals are not very pretty or pleasing.
The problem with the Indian team is its so called strength -the batting. Nobody disputes the terrific abilities of its main batsmen, Sachin Tendulkar, Virendra Sehwag, Rahul Dravid and Saurav Ganguly. But when it comes to playing in a final their record, collectively and individually, is dismal.
Tendulkar has such an aura that he is veritably the holy cow of Indian cricket. Nobody criticises him. Not the selectors, not the board, not the media. But look at his abysmal run of scores in the last 10 finals: 74, 27, 8, 45, 4, 7, 14, 17, 0, 5. He has just one score of above 50 in 10 innings. And even that 74 against Sri Lanka in the recent Asia Cup finals came in a very unlike Tendulkar fashion - off 100 balls.
Dravid, the pillar of Indian batting, has done marginally better than the others. But his showing too is disappointing in finals. His string of scores in finals is 16, 0, 12, 49, 47, 5, 77, 21, 30, and 22. Sehwag, on whom the team depends for explosive starts, has seldom come good in finals. His last 10 scores read 5, 12, 3, 5, 8, 82, 25, 13, 45, and 34.
The skipper Ganguly fares the worst among these top four batsmen of Indian cricket. His aggregate is a mere 149 runs from the last 10 finals. His scores read 4, 3, 6, 11, 24, 60, 9, 1, 28, and 3.
The aggregate of Tendulkar, Dravid and Sehwag in the last 10 finals reads 201, 279 and 232 respectively. If those totals are divided by 10 (the number of innings they played), the average score in the last 10 finals would make pathetic reading against their overall career average.
Obviously there is too vast a chasm between the performances of these four batsmen in finals and in their career record. There is not a shred of doubt about their batting ability or talent. But certainly their temperament in finals comes into question. Perhaps the sheer pressure from expectations of the millions of Indians, or the magnitude of the finals itself seem to be defeating these four again and again. Their inability to raise the level of their game for the finals is the most worrying aspect of the Indian team. And unless they do whatever it takes to get some sort of huge scores in finals victories for the Indian team will continue to be rarer than a hen's teeth.
It would be interesting to note that all the four batsmen have just one score of above 50 in the last 10 finals. A random comparison with three other top batsmen in international cricket puts in proper perspective the failures of the Indian quartet and the inability of the team to win finals.
World champions Australia's skipper Ricky Ponting has a tremendous record in finals: 4, 88, 36, 140, 1, 29, 35, 63, 33, and 78. That is one huge century and three other scores of over 50 and an aggregate of 444 runs. Is it any wonder that Australia have won the last 9 finals, with the other one being no-result?
Master blaster Sanath Jayasuriya of Sri Lanka has a stupendous record: 15, 0, 74, 71, 19, 64, 34, 99, 70, and 189. He has one huge century and five scores of above 50! His aggregate is a whopping 635. Sri Lanka, thus have won six of their last finals, lost just two and have had two no-results. Even Pakistan's Inzamam-ul-Haq has a good record: 0, 12, 28, 23, 3, 72, 39, 4, 66, and 53. That is three scores of above 50 and an aggregate of 301. Pakistan themselves have won six finals, lost three with one no-result.
It is obvious from the statistics that India's top four batsmen, Tendulkar, Dravid, Sehwag and Ganguly need to fire in the finals too if the forthcoming season of one-dayers is to bring any joy to the multitudes of enthusiastic Indian supporters. To that end the coach, psychologist, motivator or skipper needs to pull the right levers. Otherwise even at the end of the year there will be more talk of jinxes, bad luck, numerology ..