A peculiar phenomena that is taking place in international cricket is the 'musical chairs' that wicketkeepers all over the world are being made to play!
Over the last one year, as many as seven nations have undergone changes in the keeping department, employing 20 players in all .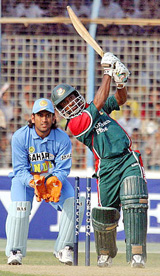 Mahendra Dhoni, India's latest stumper, in action during the recent one-day series against Bangladesh.
The full details are as follows:

Parthiv Patel (Ind) : The out-of-form Parthiv Patel, who had a horrendous experience behind the stumps where he muffed several catches and stumping opportunities as well as conceded byes , was dropped on the eve of the Mumbai Test against Australia in the 2004-05 season.

Dinesh Kaarthick (Ind) : Patel was replaced by upcoming Dinesh Kaarthick, who has appeared in five Tests so far. Unlike Patel, he was not very successful with the bat. Kaarthick scored 97 runs and affected 19 dismissals from his five Tests.

Rahul Dravid (Ind): Seasoned campaigner Rahul Dravid continued his job behind the stumps in the shorter version of the game, keeping wickets in the one-dayers. He last stood behind the stumps in the one-off game against Pakistan at Kolkata.

Mahendra Dhoni (Ind): The Indian selectors tested the skills and ability of newcomer Mahendra Dhoni against a weak opponent like Bangladesh. It provided Dravid a rest from his wicketkeeping duties and allowed him to concentrate on batting .


Rashid Latif (Pak):
Veteran Rashid Latif had a controversial relationship with the authorities over his allegations of match-fixing, something that has haunted Pakistan cricket from time to time . After playing in his last one-dayer against South Africa at Rawalpindi in 2002-03, he was sidelined from the team .
Moin Khan (Pak) :
Yet another senior player from Pakistan was found wanting both behind the stumps and also in the batting department . He appeared in his last test against Sri Lanka at Faisalabad and the last ODI against the same nation at Lahore . He has not found support from the national selectors since.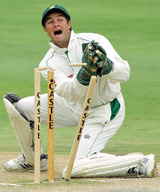 Mark Boucher
Kamran Akmal (Pak) : In business for the last couple of seasons, he has played ten Tests so far, taking 28 catches and affecting seven stumpings. He also did duty as wicketkeeper in 13 ODIs and held ten catches.

Younis Khan (Pak) : The middle-order batsman kept wickets in two one-dayers in the Paktel Cup in October 2004. He could only take a single catch and was removed from duties thereafter.

Mark Boucher (SA ) : In a surprise move , the South African selectors dropped him after 76 successive tests matches from the squad that toured India. He missed five Tests and was then recalled for the all-important fourth and penultimate Test v/s England.


Thami Tsolekile (SA) :
The 24 year-old Thami Tsolekile from Western Province was a surprise choice for the tour of India. In three Tests against India and England, he could score only 47 runs and hold six catches before being sidelined.
Abraham de Villiers (SA):
The 20 - year - old has played four Tests so far, two of them as keeper. He did a splendid job behind the stumps with ten dismissals - nine catches and a stumping. However, Boucher replaced him in the squad for the fourth Test against England.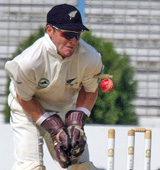 Brendon McCullum
Romesh Kaluwitharana (SL) : The wicketkeeper-opening batsman, who played such a decisive role in his country's stunning victory in the 1996 World Cup , kept in 48 out of his 49 tests and 186 out of 189 ODIs . He accounted for 119 dismissals behind the stumps in tests and 206 in ODI before calling it a day last year.

Kumar Sangakkara (SL) : His batting abilities helped him cement his place in both forms of cricket. He has taken 92 catches and affected 14 stumpings from 31 Tests so far. He has also been prolific with the bat and averages 41.51 in Tests and 37.27 in ODIs.


Ridley Jacobs (WI) :
The 37 year-old wicketkeeper-batsman played his last international match in the English summer of 2004. He accounted for 219 dismissals from 65 Tests and affected 189 dismissals from 147 ODIs. He also hit three tons in Tests and nine fifties in ODIs.
Carlton Baugh (WI) :
He replaced Ridley Jacobs during the Test series in England in 2004 . In four tests as keeper, he had a poor haul of four catches and a stumping. He claimed only two catches from six ODIs.
Courtney Browne (WI) :
The 34 -year -old was recalled after a long gap of three years during the English summer of 2004 . He played in four one-day internationals.
Chris Read (Eng) :
He played his last international match in the Caribbean in May 2004. He appeared for his country in 11 Tests and 28 ODIs with limited success behind the stumps . He was sidelined in the English season of 2004 .
Geraint Jones (Eng) :
The 28-year - old was inducted into the team during the fourth test against West Indies in April , 2004 . He has played in 11 Tests so far and affected 40 dismissals . On the other hand, he has taken 25 catches from 16 ODIs.
Robbie Hart (NZ) :
The 30 year-old played his last Test match in the 2003-04 season . He enjoyed limited success from eleven Tests and two one-day internationals. He had 30 dismissals to his credit in Tests and a solitary catch in ODIs.
Brendon Mc Cullum (NZ):
The young wicketkeeper has done duty in 50 out of 57 ODIs and ten Tests in all. He affected 26 dismissals in Tests and 78 in ODIs. He is a permanent member of the New Zealand squad. For now, that is!