Eactly a year ago, doubts were raised on whether India's tour of Pakistan would take place at all. Then a three-member Indian squad went across the border on a reconnaissance trip to inspect the security arrangements at different venues. Pakistan did the same thing a few days ago, when a special team came over to take a look at the Indian venues that have been earmarked to host the Tests and one-day internationals. But the forthcoming series is already in troubled water with Pakistan refusing to play at Ahmedabad (see table II below ) and Shiv Sena activists damaging a portion of the playing strips at Mohali (see table I below).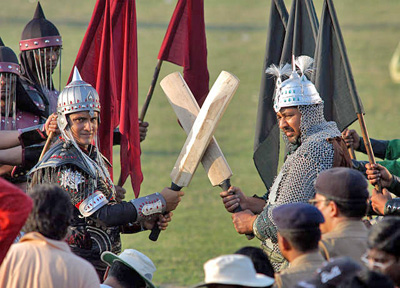 In troubled waters!
Table:
I Details of instances when the wicket was damaged in international cricket:
1975:
The Ashes series match at Headingley, Leeds was abandoned after vandals, campaigning for the release of a convicted criminal, sabotaged the Rugby Ground End of the pitch with knives and oil. The match was poised for a great finish with Australia needing 225 to win with seven wickets in hand, but it had to be abandoned.
1991:
The Pakistani team was scheduled to tour India when local Shiv Sena activists damaged the strip at the Wankhede stadium. The tour was subsequently cancelled.
1999:
On the eve of Pakistan's last tour of India in 1998-99, activists dug up the Test pitch in Delhi , forcing the Indian Board to move the first Test against Paksitan to Chennai.
2005:
In what appears to be yet another churlish act of vandalism, six miscreants claiming to be members of Shiv Sena made a crude attempt to damage the pitch at the PCA Stadium in Mohali where the first Test of the forthcoming Indo-Pak series will be played in three weeks time. About 50 Sainiks raised slogans before attempting to enter stadium at Green Park, Kanpur but were denied entry by security-guards