The title of this piece is enough to encapsulate the history of Test cricket between the traditional rivals.
It all started with negative, tedious, safety-oriented cricket. India and Pakistan played their first Test series against each other in 1952-53. The first four decades of Test cricket - the 50s, 60s, 70s and the 80s - witnessed as many as 33 draws out of 44 Tests, a whopping percentage of 75. Of the ten series played by the two countries in the four decades, as many as five (50%) ended in a complete stalemate with neither team winning even one Test (1954-55, 1960-61, 1983-84, 1984-85, 1989-90).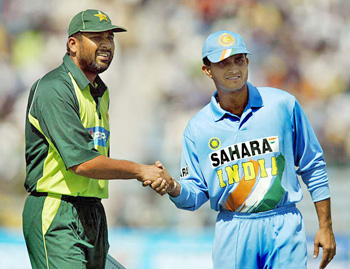 Cricket's biggest rivalry
In fact, the countries played 13 consecutive draws from the fourth Test of the 1952-53 series right upto the first Test of the 1978-79 series.
Contrast this with the last two Test series between the two countries. India and Pakistan played a two-Test series in India in 1998-99 and an additional Test that was part of the Asian Test Championship. The Test series was tied 1-1 and Pakistan won the Asian Test Championship game. All three matches ended in results.
The Indians struck back in Pakistan last year by winning two and losing one of three Tests.
Thus, the previous six Tests between the traditional rivals have ended in results.
CLOSE FINISHES - PAKISTAN ON TOP
Three Tests between India and Pakistan have had close finishes, and Pakistan have won all three of them.
Bangalore, 1986-87: The two teams ended a sequence of eleven consecutive draws with a thriller of a Test that Pakistan won by only 16 runs. Pakistan scored 116 in their first innings and 249 in the second. Sunil Gavaskar played a tremendous innings on a wicket with eccentric bounce to take India to the brink of victory. He scored 96 in an innings that lasted for 323 minutes, and completed 2000 runs against Pakistan. However, India fell short by 16 runs. The second-highest contributor in India's innings was 'Mr. Extras', who contributed 27. Pakistani spinners Iqbal Qasim and Tauseef Ahmed claimed four wickets each in a combined total of 82.5 overs, and foiled India's pursuit of a target of 221. At Chennai , 1998-99 : The first Test between the two teams in nine years was another tantalizing tussle in which Pakistan registered a 12-run triumph . A nail-biting finish saw India slump to 82-5 in chase of a target of 271. Sachin Tendulkar ( 136 ) and Nayan Mongia ( 52 ) then added 136 for the sixth wicket . Mongia fell, but Tendulkar kept going despite a back-strain. India needed only 17 to win when Sachin holed out to Akram at mid off. The last three wickets could add only four runs! At Kolkata , 1998-99 : India were set a target of 279. Openers S. Ramesh ( 40 ) and V.V.S.Laxman ( 67 ) provided a good start, but wickets kept falling at regular intervals thereafter. None of the batsmen could cross the 25-run barrier. Earlier, opener Saeed Anwar carried his bat through for 188 runs in the second innings, contributing 60 per cent of a total of 316. Indian paceman Javagal Srinath gave a lion - hearted effort with figures of 5-46 and 8-86 from 46 overs in the match . Despite the losses, Indians won the Man of the Match awards in all three games - Gavaskar in 1986-87, Tendulkar in 1998-99 and Srinath at Kolkata the same year ( shared with Saeed Anwar ) .
Decade wise details of India - Pakistan test matches :
Decades
Venue
Matches
India
Pakistan
Drawn
Drawn %
1950s
Ind , Pak
10
2
1
7
70.00
1960s
India
5
0
0
5
100.00
1970s
Pak , Ind
9
2
2
5
55.55
1980s
Pak , Ind
20
0
4
16
80.00
1990s
India
3
1
2
0
0.00
2000s
Pakistan
3
2
1
0
0.00
Total
India
27
5
4
18
66.66
Pakistan
23
2
6
15
65.22
Overall
50
7
10
33
66.00