Off-spinner Harbhajan Singh has stated that the frequent accusations heaped upon his bowling action have affected his performance in international cricket. Is this true? Let's find out.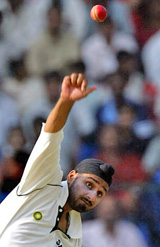 Harbhajan Singh
He has been officially placed in the dock three times now. Recalled herewith are details of his performances immediately after being reported:

*September, 1998: India had finished playing an ODI series in Zimbabwe when Harbhajan's bowling action was first reported. He went on to miss the next 84 ODIs and played a one-dayer only after a gap of 30 months. However, he did play in the Tests and captured 14 wickets from six matches at an expensive rate of 38.43 runs per victim! It makes sense to Harbhajan's claim.

*December, 2004: Harbhajan's 'doosra' came under scrutiny after the two-Test series against Bangladesh. In two one-day matches (he missed one game in between) against Bangladesh, he took a solitary wicket and conceded 94 runs off 18 overs He was not considered for the first (Mohali) Test against Pakistan. Included in the XI for the second Test at Kolkata, he claimed only four wickets, but at a high 'price' of 36.25 - A poor display.



*March, 2005: His 'doosra' found itself in the spotlight once again. Its legality was questioned at the end of the Kolkata Test against Pakistan. However, he produced figures of 6-152 in the first innings and 0-35 in the second innings in the next Test at Bangalore. In the five ODIs (he missed the fourth match at Ahmedabad) that followed, he took only just three wickets at an astonishingly high average of 73.67 while sending down as many as 46 overs!
Conclusion - It has to be said that Harbhajan Singh has a point.