The psychological demands of the varied aspects of cricket are numerous, and more so for batsmen.
One mistake, and the batsman is back in the pavilion. These demands vary in amount and type at different batting positions. An opener should be quick to react to the missiles hurled by the fast bowlers and be a good judge of the line and length. On the other hand, a middle-order batsman needs to look after other aspects. He should be able to alter his game depending on the match situation. He may either need to attack to stamp his team's authority or drop anchor in the event of a collapse.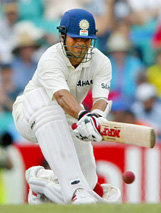 A rare occurrence - Sachin Tendulkar reverse-sweeping in a Test match. He normally plays this stroke in the one-day internationals
I had played two Tests against the visiting Kiwis prior to the series against Australia, and had batted at no. 7 in both games. Hence, it came as a surprise when Tiger Pataudi, our captain, informed me that I was to bat at no. 3 in the first Test, to be played at the CCI, Mumbai. Although I was a middle-order batsman, I had not batted at that number at any level before in first-class cricket. I spoke to my father about it, and he advised me to just forget my worries and go out and play. I went out and scored 74 against an attack comprising Alan Connolly, John Gleeson and the great Graham McKenzie, who was undoubtedly the best fast bowler I have faced. He was quick, deceptive, and could swing the ball both ways. He hardly gave the batsmen any respite, even when he operated with an old ball. He had a lethal off-cutter that I remember rather well, for he bowled me with this delivery twice in the series when I had crossed fifty and was well-set! In addition to his bowling capabilities, he was also an excellent fielder in the deep, competent catcher with bucket-like hands, and an effective lower-order bat.


'Motivation' is a big and powerful word, and extremely essential from the batting point of view. A living example of motivational power is our very own Rahul Dravid. A few years back, he was struggling to retain his place in the one-day side despite possessing a rich technique and the ability to play all the strokes. It is sheer motivation that enabled him not only to cement his place, but also go from strength to strength and finally become the super batsman he is regarded as today.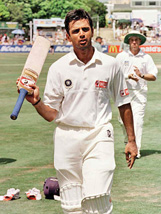 Rahul Dravid - Motivation and concentration
Another critical attribute is 'Concentration'. A batsman who can concentrate for long hours is most likely to succeed at the highest level. Here again, the first name that comes to mind is Rahul Dravid, an epitome of concentration. With concentration, a batsman can perform in tight situations, ignore the glare of the bowlers and the harsh words of the fielders. Without concentration, one simply cannot bat for a particular length of time.

Emotions, they say, make you weak. True as far as batting is concerned. Of all the emotions, frustration, nervousness and elation are most commonly experienced.

I. A player can get frustrated when he is not able to score quick runs needed by the team. Inability to rotate the strike often leads to the batsman getting out.

II. A little bit of pre-match nervousness is good to have. But if this nervous energy is brought onto the crease, the batsman invariably falls prey to a quality opposition bowler.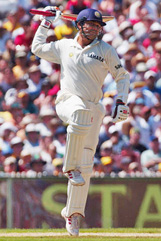 Virender Sehwag - Self-belief and confidence.
III. So often do we see a batsman getting out after a landmark is achieved. This happens when the feeling of elation and a sense of achievement are carried to the next ball bowled. The confidence of being one of the best in the business is a tool that a batman can be proud to possess. A confident batsman is sure of his goals, plans and how he wants to execute those plans. On the other hand, a less confident batsman is hesitant, unsure and actually fearful of failure. Virender Sehwag illustrates what self-confidence can do to a cricketer. The lad does not have a technique as faultless as say Dravid's. But he has self-belief and tons of confidence. He backs his ability to succeed, and boy, hasn't he succeeded! It is thus pretty evident that there is a great deal more to batting than just a good technique. A batsman wins or loses his battles in the mind.