Matches between Mumbai v/s Delhi are always 'crunch' affairs, like those between Lancashire and Yorkshire in England- which is called as battle of roses. It's a tradition that's has been going on for years, any match between the two teams is closely & keenly followed. There is lot of hype from the media, public and the officials hence the players give more than 100% from both the sides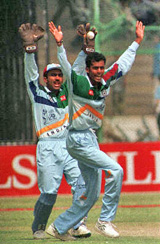 Nilesh Kulkarni (right) did a splendid job as Mumbai's captain in the absence of the injured Sairaj Bahutule
There was lot of speculation whether Sachin Tendulkar and Ajit Agarkar would play for Mumbai and Virender Sehwag and Ashish Nehra will turn up for the arch-rivals Delhi. Mumbai (21 points) had already qualified for the semi-finals by virtue of being the number one team from the Elite-A group and Delhi (12 points) had to win this game to qualify as the second team from this group, hence it was a do-or-die effort for them.

To Delhi's surprise, Sehwag opted out of this game and Tendulkar and Agarkar were rested for Mumbai. This gave the Mumbai selectors the opportunity to try out their bench-strength. Delhi had three current Test players in Ashish Nehra, Akash Chopra and Gautam Gambhir, and other experienced cricketers like the skipper Ajay Jadeja, Rahul Sanghvi, Sharandeep Singh, Amit Bhandari and Mithun Minhas. Mumbai on the other hand no current Test player, but some seasoned ones like Wasim Jaffer, Nilesh Kulkarni, Amol Muzumdar and Ramesh Powar. On paper, Delhi definitely looked the stronger side.


Delhi won the toss and made first use of the wicket, which was a belter. They scored 394 with Ajay Jadeja scoring 93, Mithun Minhas 74, Akash Chopra 51 and Ashish Nehra chipping with an unbeaten 41. The bowling honours were shared by Usman Malvi and Wilkin Mota, who bowled their hearts out on a placid batting wicket and reaped the rewards by bowling a disciplined line, and induced the batsmen to make mistakes.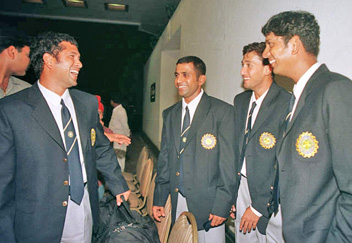 Ajit Agarkar (second from right) with three Ranji Trophy winning Mumbai captains - Sachin Tendulkar (1994-95), Sameer Dighe (1999-00) and Sairaj Bahutule (2003-04).
Mumbai had the monumental task of scoring 394 against an experienced bowling attack to take the first-innings lead. The onus was on the senior players in the team to take the juniors along and make a match of it. In keeping with the tradition of Mumbai cricket, the players did just that and performed like champions. They made mincemeat of the Delhi attack by amassing a massive 600 runs for the loss of nine wickets. Openers Wasim Jaffer and Vinayak Mane put on 136 and did exactly what the opening pair is needed to do when chasing a big total. Jaffer (122) got his third century of the season, and the way he is batting at the moment, I think he is at his peak now. Old warhorse Amol Muzumdar (112) also scored his third century of the season and the youngsters showed guts and determination. Mane (73), Vineet Indulkar (85), Bhavin Thakker (82) and Wilkin Mota (55*) were outstanding. Vineet Indulkar, playing in only his second season, is improving with every match. He has a good temperament and solid defence. If he works harder on his game, he will be the player to watch for the future.
Man-to-man, Mumbai were the weaker team. On paper, that is. They did not have Sachin Tendulkar, Ajit Agarkar and Sairaj Bahutule, but then, they had players endowed with a big heart and determination. It's a team without any stars, yet they click because of their "khadoos" attitude. They have won the Ranji Trophy 36 times already and look poised to win it for the 37th time. SALAAM MUMBAI!