The Mumbai Cricket Association, a body that has given the nation and world some outstanding cricketers, is celebrating its Platinum Jubilee this year. There was a time when more than half the Indian team would comprise players from the island city. However, the representation of Mumbai in the national side has reduced in the recent past. Sachin Tendulkar and the not-so-regular Ajit Agarkar are the only two mUmbai players in the team.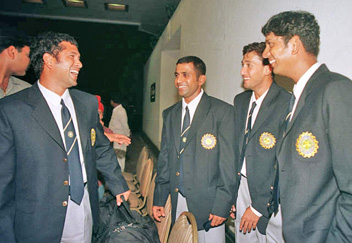 Mumbai's recent veterans - Sachin Tendulkar, Sameer Dighe, Ajit Agarkar and Sairaj Bahutule.


The reduction of Mumbai's representation in the national team prompted the Managing Committee of the MCA to brainstorm. The outcome was a decision to provide better facilities to budding cricketers. It was also felt that since several cricketers lived in the suburbs and spent more time travelling than playing, they had to be helped out. Accordingly, the MCA decided to take the game closer to the suburbs and began work on two grounds; one in the Bandra-Kurla complex and the other in Mahavir Nagar, Kandivli.
At Kandivli, two matches can be played simultaneously with plenty of practice pitches. The travel-time of players residing in the western suburbs from Andheri to Virar will reduce drastically if they play there.
The MCA has gone a long way in developing a cricket centre in the Bandra-Kurla Complex, Mumbai's booming Business District. A state-of-the-art Indoor Cricket Academy, the need of the hour, is coming up here. This academy will play host to the application of technology to produce and train young cricketers.
The academy will feature air-conditioned indoor cricket facilities, which include seven nets, all of them equipped with floodlights and fitted with video cameras, a gymnasium and a viewers' gallery. The entire project will be completed in 24 months, making this academy the only one of its kind in India.
Living for today brings its own rewards, but nurturing the talent of future generations brings unceasing rewards of a quality and in a quantity that can startle the imagination.
With the completion of this project in early 2007, the MCA will have taken a quantum leap towards its Centenary and way beyond. The academy will definitely help Mumbai to produce top-class cricketers of the calibre of stalwarts like Gavaskar, Vengsarkar, Tendulkar and Shastri.