The BCCI, currently in the process of selecting a successor to John Wright, constituted a high-powered committee to do the job. It comprises the President Mr. Ranbir Singh Mahendra, former President Mr. Jagmohan Dalmiya, Secretary Mr. S.K. Nair and three of the best cricketing brains in the country; Mr. Sunil Gavaskar, Mr. Ravi Shastri and Mr. Srinivas Venkatraghavan.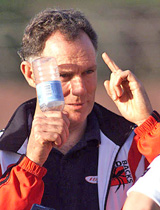 Greg Chappell
The panel shortlisted Australians Greg Chappell and Tom Moody, and Indians Mohinder Amarnath and Sandeep Patil for the job (Patil has since declared his unavailability). The BCCI will also be consulting senior players like Sourav Ganguly, Rahul Dravid, Sachin Tendulkar and Anil Kumble. It seems that Sourav is keen on having Greg Chappell, easily the most qualified candidate in the fray. Chappell certainly looks like the frontrunner. One of the best batsmen and captains in the history of the game, he has the stature and the ability to handle a team of superstars better. He is the only one from among the three contenders to have led an international team with a fair degree of success.

There are two schools of thoughts in the country at the moment. The first one favours a foreigner for the coach's post. 'Students' of this school believe that an outsider will never indulge in parochialism and petty politics as he isn't a resident of India. He won't be under anybody's obligation and on top of that, no one will be able to influence him.


The second school believes that we are depriving our own talented people and discouraging them. I too believe that the Board has erred by inadvertently indicating that Indians are not good enough to be coaches of their own national side. If the trend of foreign coaches continues, there might well be a time when no former cricketer in India will want to take up coaching. The game will suffer if this happens. Like the cricketers, the coaches also need to be motivated and ambitious. They can motivate others only if they are motivated themselves.
The BCCI has been doing its best to train coaches through courses at the National Cricket Academy in Bangalore. These courses have three 'levels'; level-1, level-2 and level-3. A coach gets a certificate after clearing each level, the level-3 certificate being the most prestigious.
The BCCI has conducted two batches of the level-3 course so far. These two batches comprise several deserving candidates who could be considered by the BCCI in addition to the shortlisted trio.
I hope the six wise men think deep and select an individual who will take the Indian team to greater heights.