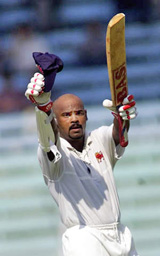 Vinod Kambli
Cricket is indeed a great leveller. Ask Vinod Kambli. Nobody is exempt from the game of cricketing musical chairs. Hero one day, a fairytale gone sour the next. Vinod Kambli and Sachin Tendulkar entered the cricketing firmament with a bang, posting a mammoth 664-run partnership in an inter-school game in 1987-88. Vinod was as talented as Sachin, but failed to live up to people's (and the selectors') expectations. Despite several setbacks, he still determined as ever to fight and help the Mumbai team to maintain the high standards it has set for itself.

Kambli is a genius. He came from nowhere and established his place by sheer dint of talent alone. His only identity, security and insurance for a better life was the game of cricket. That he shared a record partnership with Sachin, his bosom pal, in school, was one thing, but making the grade on his own, was something else. Ask Achrekar Sir, his coach.


His fancy for earrings, a trendy lifestyle and bizarre hairstyles interspersed with a shaven head notwithstanding, Kambli is an individual who has loads of common sense. It is this that will help him in the days to come. He has had his share of problems, but he ought to leave them at home and let his bat do all the talking. He should cool his heels, think positively, hone his skills, and practise hard to overcome his well-publicised weaknesses against the short-pitched stuff and the moving delivery outside the off-stump.
Sachin and Vinod are two very different sides of the same coin. Sachin has a sharp brain, a wise head on his shoulders and has gone on to become one of the best batsmen in the world. On the other hand, Kambli is too flamboyant, too carefree, fun-loving and even unpredictable. If he hadn't been a cricketer, he would surely have made it big in showbiz with his colourful clothes and other paraphernalia. He can dance well too, but perish the thought. What he needs to do now is dance to the demands of the game. Else, he would be history. That would be disastrous for him and for the game of cricket itself.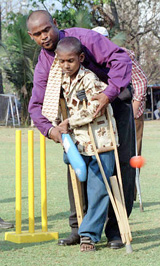 A hero, forever
All is not lost for Kambli by way of public adulation. He is still a crowd-puller. There are millions of cricket fans who still want to watch him for his cricket. He remains the backbone of the Mumbai team and has played some extraordinary innings in crisis situations. Now that he is recovering from suspected jaundice, virtually everybody who follows cricket in Mumbai is praying for his speedy recovery.

It's not going to be easy for him to regain his spot in the Indian team. But for a man with his talent, nothing is impossible. He has in him to be his own master and not a mere shadow of his own self. The Mumbai team needs him at the moment.

Vinod, get well soon and then start scoring runs by the tons. You have done it in the past and there is no reason why you can't do it again.

How will you do it? Very simple. Just be yourself. Be Kambli the go-getter, not the shadow-man!