The Natwest triangular series will be starting next week, with Bangladesh and Australia pitted against hosts England. The Bangladeshis have been in England for a two-Test series, and the Aussies landed in London last week for a three-month tour. The one-day internationals will be followed by the 'Ashes' series.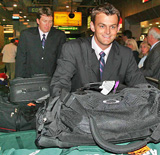 Adam Gilchrist at London's Heathrow Airport after the Australian team's arrival in England. Behind him is Glenn McGrath.
The English team has been doing well for the past one year or so. They have performed consistently in both versions of the game. The side comprises some competent players who can be match-winners, like Andrew Flintoff, Kevin Pietersen, Andrew Strauss and skipper Michael Vaughan, to name just a few.

The just-concluded Test series against Bangladesh would have helped to bring the English players into a groove before they take on the might of the Aussies. It always helps to have runs and wickets under your belt on the eve of a battle against a side like Australia, which is of course the best team in the world. Agreed that Bangladesh are a weak team, but the best thing for any batsman or bowler after a long lay-off is to spend time in the middle and get among the runs and wickets. No cricketer will complain if a decent performance against a weak side helps him play himself into form.


Matthew Hoggard, one of England's strike bowlers, reiterated this very point when he stated after the Bangladesh series that although he hadn't bowled particularly well and was struggling to get into a rhythm, "It was nice to take some wickets". Those wickets had boosted his confidence, and at the international level, that is what matters.
Australia are a well-balanced outfit and it will be very difficult to beat them. Adam Gilchrist is the key man; on his day, it is impossible to stop him. He can turn a match on its head at any stage. The English think-tank will aim at preventing him from scoring freely. They will have to chalk out similar strategies against attacking batsmen like Hayden, Ponting, Martyn and Symonds, all of whom are difficult to 'control' once they get going.
England on the other hand has a very good batting line-up, but they lack penetration in the bowling department. They have a decent fielding side, but they have to play really well to beat the Aussies. Having said that, I do feel that England have a slight edge. Firstly, they will be playing at home, and secondly, the Australians are without Shane Warne, their biggest match-winner who has retired from one-day cricket.
The one-dayers should make for wonderful viewing.