Paceman's Pacemaker - The shoulder - I
One of the golden rules of cricket is that a player with a weak or inefficient shoulder can never be a consistent performer. This certainly applies to fast bowlers. A paceman's career 'revolves', quite literally, on the 360-degree movement of his shoulder!
The complex shoulder joint is assembled of bone soft tissue and joint functions that play in complete harmony thousands of times per day. Everything from batting, bowling, throwing to simply reaching forward to avoid getting run-out, all depend upon a synchronized, rhythmic motion of these multiple components.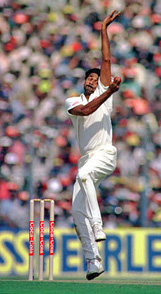 Javagal Srinath - was afflicted by a shoulder problem in his prime.
ANATOMY OF THE SHOULDER

The shoulder mainly consists of four joints. Try to feel them on your own body to understand them properly.

1- GLENOHUMERAL JOINT (ball and socket joint): It is the joint between the glenoid part of scapula (the socket) and the head of the hmeus bone (the ball).
2- STERNOCLAVICULAR JOINT: It is the joint between the sternum and collar bone. It is the only bony connection that the shoulder has with the main skeleton.
3- ACCROMIOCLAVICULAR JOINT: It is the part of the scapula or shoulder blade.
4- SCAPULOTHORACIC JOINT: It is the false joint between the scapula and ribs.

What are the problems that a fast bowler is likely to face?

He feels a pinch in the shoulder while releasing the ball. He feels a pinch when his hand moves upwards and above 90 degrees. His non-bowling arm irritates him while bowling. He has problems making flat throws from the outfield. Long-distance throwing is akin to taking a giant leap for him.
He faces these problems because of a shortcoming in any one of the five main attributes that are essential for bowling fast:
1- BOWLING TECHNIQUE.
2- FLEXIBILITY.
3- CORE STABILITY.
4- ROTATOR CUFF CONTROL.
5- GENERAL STRENGTH
These five elements work in coordination. They give speed to a Brett Lee or a Shoaib Akhtar, accuracy to a Glenn McGrath and the swinging propensity to a Wasim Akram. Two basic requirements for a fast bowler is 'balance' and 'control' of the bowling shoulder. This in turn depends on core stability, flexibility and the rotator cuff control of the joint. The 'long head of bicep' tendon that runs over the front of the joint, lends the rotator-cuff control.
A fast bowler who wants to bowl 15-20 overs a day needs to work hard on his scapular muscles. This process is termed as scapular stabilizing. He will also need to possess endurance and a lot of strength. Thus, he will have to work on not only the scapular stabilizer muscles or the glenohueral muscles, but also muscles like the deltoid latissmus dorsi pectoralis major and mainly the rotator-cuff muscles, which will help him gain inner core-stability of the shoulder. This will enable him to acquire proper balance and control. A fast bowler endowed with balance and control will find it relatively easier to achieve and maintain a high level of performance.
A deficit in balance or control can cause soft tissue injury, which leads to degenerative changes and can be disastrous to one's career. Our very own Javagal Srinath was at the peak of his career in 1997 when he lost six precious months due to an injury of this nature. The injury could and should have been detected earlier as it was a minor imbalance in the rotator-cuff muscle in the initial stages, which worsened as he kept bowling and throwing from the deep. That is why it is said that a stitch in time saves nine. He would not have lost six months of his career had an experienced physiotherapist screened and tested him in the initial stages. He had to drop out of the tour of the Caribbean, where Venkatesh Prasad and Abey Kuruvilla bowled very well. India lost that series 0-1. Who knows what might have happened had Srinath, then in his prime, been available?