Footwork Works
- By Ashok Mankad
There is obviously no single key that can unravel the many secrets of the art of batting. There are several, of which 'Footwork' is one of the most critical. It is to batting what the foundation is to a building. Without it, there can be no structure.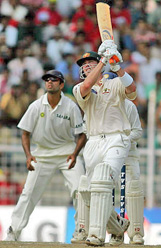 Damien Martyn displays his footwork
in the Chennai Test, October 2004.
A batsman can get away a few times with fantastic hand-eye coordination and minimal footwork, but not for a very long time. Bowlers at the international level will not take long to sort you out. Of course, there are always exceptions, like our very own VVS Laxman and Virender Sehwag. But then, they are exceptions, and one must not forget that. The 'step-out-and-drive' stroke, which is usually executed against a spinner, cannot be played without effective footwork. Hand-eye coordination without footwork will not help. Hand-eye coordination may also not work in isolation on wickets on which the ball is not coming on to the bat. Footwork becomes vital when the batsmen have to go for the ball rather than wait for it to come to them.

Every batsman should strive to attain perfect hand-eye-feet coordination. Perfection is of course not possible to achieve, but one can try and come close.

Many cricket pundits will define good footwork as technically correct footwork. But is that enough? The answer is 'no'.

For the batsman, good, impeccable technique should go hand in hand with correct judgement of the speed at which he should move his feet. For instance, if he moves back in the perfect and technically correct manner, but is slow in doing so, he may be bowled or trapped LBW. On the other hand, he may lob a simple catch in the air if he is too early into his shot.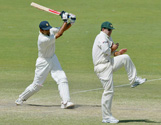 Rahul Dravid drives leg-spinner Stuart
MacGill on India's tour
of Australia in 2003-04.
Batsmen who are quick on their feet are at an advantage, especially against slow bowling. A batsman who jumps down the wicket to attack a spinner and then decides against playing the shot at the last moment or in some cases, misses the ball, will be able to go back and regain his crease if his footwork is good.

A visible characteristic of great players is the apparent ease with which they play their strokes. They always seem to be in the right position to play their shots, with plenty of time to spare. Sir Don Bradman, Sunil Gavaskar and Rahul Dravid are some batting greats to come to mind when one thinks about batsmen whose footwork helps them put themselves in the best position to play their strokes. In fact, achieving the right position amounts to winning half the battle as far as strokeplay is concerned.

Skipping can play as important a role in cricket as it does in sports like boxing, hockey, tennis and athletics. It improves cardio-vascular fitness, which is a bonus for a sportsman. It helps in keeping the feet light, which in turn, develops one's footwork. My father, the legendary Vinoo Mankad, used to tell us to skip in the dressing-room at regular intervals whenever we were awaiting our turn to bat, and a big partnership was developing in the middle. He advocated skipping as it kept the legs moving and blood flowing!

Nearly every outdoor sport requires a specific type of footwork. In cricket for instance, one need not skip continuously, whereas in boxing, a player needs to have a lot of stamina and so will need to skip for longer periods. The first thing I used to put in my kitbag in my playing days was the skipping rope. I used to skip in sets of 100/200/ 500, and ensure that I did 1000 daily. Not only did it improve my batting, but also my agility and running between the wickets. Nirupama Mankad, my wife, who did the country proud in tennis, used to do 5000 skips daily!

It can be said categorically that footwork is the essence of a successful sports career, without which he / she will struggle in the long run.